Operating the Curta
---
Setting a number on the input section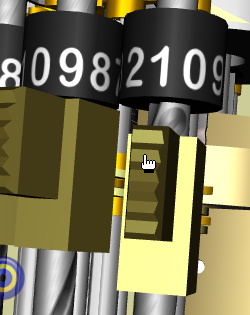 Drag the settings lever up or down
To reset all the setters to zero use the keyboard command:
---
Rotating the crank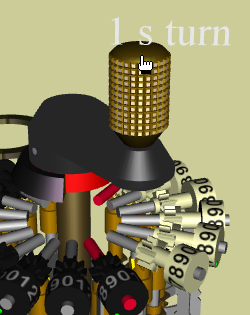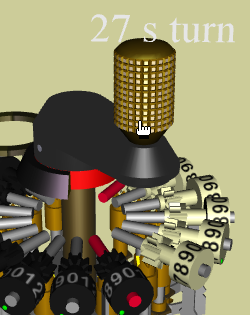 click on the top of the crank
if you click on the side: the lower you click the slower the turn
press Enter to start a crank-cycle at the most recently used speed
note:

Once a crankcycle is running it can not be stopped.
---
Add or Subtract mode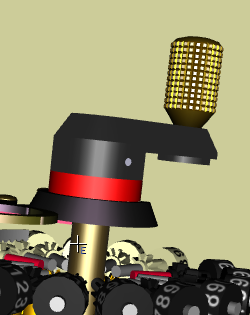 Click any other part of the crank
Or use the keyboard commands:

A for Add Mode
S for Subtract Mode

As a reminder a red ring is visible under the crankhandle in Subtract mode
---
Moving the carriage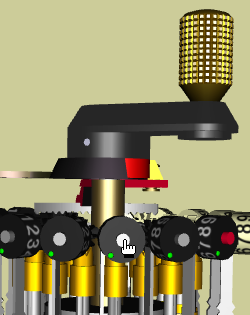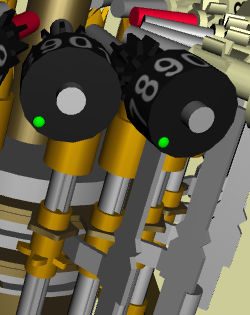 Click on the shaft you would like to position over the unit position
You can also move the carriage to any of 6 positions by pressing the 1 to 6 keys

1 .. for the units position
2 .. for the tens position
3 .. for the hundreds position
and so on

As a reminder the shafts of the wheels currently over the unit shafts are shown in red
See the little green dots on the wheels? They show the position of the carry-lever push-down-pin on the rear side of the wheel.
---
Turns counter reversing lever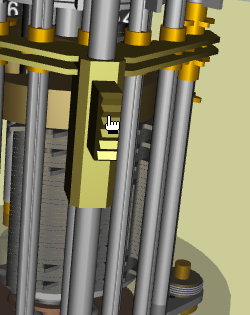 The reversing lever controls the way the crank turns are counted.
Drag the reversing lever up or down
Or use the keyboard commands:

TI for Turns Counter Increment Mode
TD for Turns Counter Decrement Mode

Up is Increment mode
Down is Decrement
---
Clearing the Results and Turn Counter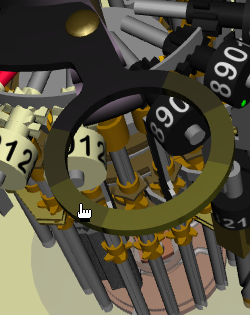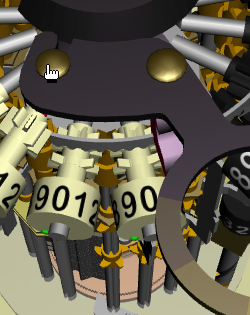 Unfold the clearing lever by clicking on any part of it
Or use the keyboard command:

CX for Clearing lever Epand

Click on the clearing lever to start clearing
Or use the keyboard commands:

CR for Clearing the Results
CT for Clearing the Turns Counter

The clearing lever clears the results section on the side you click on
There are 8 different hotspots on the clearing lever for 4 different speeds
The closer to the body you click, the slower the clearing speed
Click on the plunger to unlock and fold-in the lever prior to storing the Curta in its container
Or use the keyboard command:

CF for Clearing lever Fold in
---

---